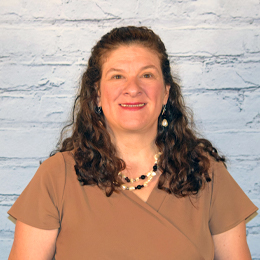 Carlton Anne Cook Walker, President
Email: NOPBCpres@gmail.com
In addition to serving as president of the NOPBC, Carlton maintains a solo law practice in South Central Pennsylvania, holds certification as a teacher of students with visual and multiple impairments, and provides legal and educational advocacy services through BEAR (Blindness Education and Advocacy Resources).
Carlton was drawn to Braille instruction by the needs of her blind child, Anna Catherine, who is now a young adult. Carlton, Anna Catherine, and Stephen Walker have been proud members of the National Federation of the Blind since 2005, when they participated in an early childhood seminar and learned about the importance of Braille use and cane travel in the independence of a child with blindness/low vision. The support and guidance of fellow parents and blind adults have helped Stephen and Carlton advocate more effectively for Anna Catherine's educational needs and have contributed to Anna Catherine's success. Anna Catherine will begin undergraduate studies in Food Science at the Pennsylvania State University at University Park in August 2022.
Through presentations, articles, and direct advocacy, Carlton supports the creation and maintenance of inclusive environments in educational settings, employment venues, and the community in order to maximize the talents and skills of blind individuals of all ages. Using her experience as an attorney, as a teacher of blind students, as the parent of a young blind adult, and as a long-time active member of the National Federation of the Blind, Carlton feels privileged to have the opportunity to help others remove societal obstacles to success and help blind individuals live the lives they want.
Carlton is also active in her church and in her community in South Central Pennsylvania.