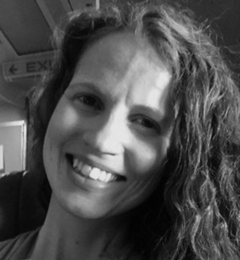 Sarah Erb, Second Vice-President
Email: slcerb@gmail.com
 

Sarah is a cis gendered female and lives in Salt Lake City, Utah. She and her spouse are parents to 2 children, including their spunky and inquisitive older child who was born blind due to underdeveloped optic nerves. Sarah has been learning the Braille code since her child was 6 months old, and is relishing the challenge to keep up with her elementary aged blind child.
The Erbs joined the NFB when their child who is blind was a toddler, at the recommendation of their child's Early Intervention provider, as they were seeking opportunities for their child to meet others with lived experience as a blind individuals. Because of their involvement in the NFB, Sarah feels their family has been has empowered with the knowledge of best practices of braille literacy, cane travel, and IEP advocacy. She is excited to be able to share this knowledge about equity and inclusion in education for students with all abilities.
Sarah's most most memorable moments with her family have been exploring new places, making new friendships, and observing how each child learns best. Sarah enjoys gardening, bicycling, yoga, and adventuring in nature as often as possible with her family. Favorite family trips recently have been visiting U.S. National Parks, "please touch" museums and the ocean.

Sarah looks forward to connecting with and empowering others within the ever-growing NFB family.