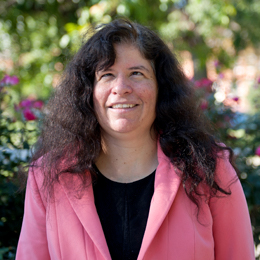 Melissa Riccobono
Melissa has been blind since birth, due to LCA. Melissa was very lucky to have parents who were firm believers that she and her older sister, who is also blind, could and would live the lives they wanted. Melissa and her sister were expected to do the same things as their sighted brothers while growing up, and Melissa is extremely grateful to her parents for their high expectations, and all of the skills they made sure she learned before she went away to college.
Melissa earned a B.A. in psychology and an M.S. in Counseling Psychology, with an emphasis in school counseling, both from the University of Wisconsin-Madison. She joined the National Federation of the Blind while she was a college student, and has held many leadership positions in the organization over the last 18 years. After college, Melissa worked for three years as an elementary school counselor in a public school outside of Baltimore. She left her position in order to be a stay at home mom.
Melissa and her husband, Mark Riccobono (president of the National Federation of the Blind) are the proud parents of three children. Austin is sighted, and going into fourth grade. Oriana is a first-grader, and Elizabeth is a student in pre-K. Both Oriana and Elizabeth are blind.
Melissa has advocated for parents and their blind children for years, but the experience is quite different when the blind children in question are hers. She is learning a great deal about navigating the educational system, encouraging a reluctant Braille reader, and helping her children become experienced cane travelers—a skill she did not feel completely comfortable with until adulthood. Melissa is honored to serve as president of the Maryland Parents of Blind Children, and as a Board member of NOPBC. She looks forward to being able to help parents in any way she can by drawing from her own experiences as a blind child and adult, and from her more recent experiences as a mom of two blind children. Melissa also looks forward to learning from all of the families with blind children around the country. She believes everyone has something to learn and something to teach, and this is one of her favorite aspects of participating in the National Federation of the Blind.